BROWNMAN ELECTRYC TRIO - Spring Tour Date at Resonance Café
Where
About
BROWNMAN ELECTRYC TRIO - Spring Tour!
:: Brownman Ali - electric trumpet & compositions
:: Sean Dennis - 6-string electric bass
:: Jacob JT Aylward - drums
——
Montreal's Resonance Cafe proudly presents National Jazz Award winners for "electric jazz group of the year", the BROWNMAN ELECTRYC TRIO — who NPR (National Public Radio) in New York City has called "the new standard in electric-jazz". Opening Act: David Ryshpan
——
Fri-May-17, 9:00pm @ Resonance Café
5175A Park Ave, Montreal | www.ResonanceCafe.com
$20 door, $15 advanced, $10 students w/ ID...
WATCH
Andrew Nicholson uploaded this event on April 26, 2019
TICKETS
Start your ticket shopping from Jazz Near You and you'll support us in the process. Learn how.
Browntasauras Records
2013
buy
Browntasauras Records
2009
buy
Browntasauras Records
2007
buy
Browntasauras Records
2004
buy
Browntasauras Records
2003
buy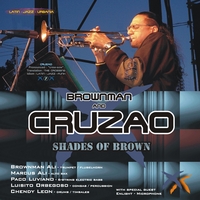 Browntasauras Records
2002
buy